Sumerian Records to Debut on Rock Band Network™ with Asking Alexandria
Sherman Oaks, Calif—April 30, 2010 — Sumerian Records has partnered with Rhythm Authors to bring its influential catalog of notable progressive and cutting edge artists to the Rock Band™ platform!
Asking Alexandria hails from England with a heavy and hard-hitting yet melodic and catchy sound, bringing a unique element to the metal scene. This talented group stands out from the rest by combining metal music with European Trance, soft catchy melodies, and a mature sound. Their debut album, released in September 2009, reached No. 5 on Billboard's Heatseekers chart. Just finishing up a European tour, they'll soon be making their way across North America in the Welcome To The Circus Tour before heading back to the studio to record their second album.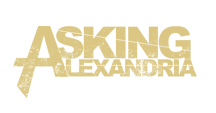 As of this announcement, Rhythm Authors has completed Rock Band authoring for the following tracks from Asking Alexandria's debut album, "Stand Up and Scream," that are now submitted and progressing through the pipeline to the Rock Band Network™ Store:
The Final Episode (Let's Change the Channel)
Hey There Mr. Brooks
A Prophecy
Full gameplay preview videos will be available on RhythmAuthors.com for all songs as they become approved for sale.
Until then, here's a sampling of the intensity to expect from Asking Alexandria :
As part of the partnership, After the Burial and Veil of Maya have additionally been signed for Rock Band™ production. These heavily requested acts are sure to provide a challenge and engage players in an experience unlike anything else.
For more about Asking Alexandria, check out their interview at SXSW 2010 last month where the Rock Band Network™ also made its debut
(http://www.spinner.com/2010/03/11/asking-alexandria-interview-sxsw-2010/) and visit the band's MySpace at http://www.myspace.com/askingalexandria.
Stay tuned to Sumerian Records and Rhythm Authors for progress updates and further song and artist announcements.